We Create Magical Weddings
Your wedding is going to be one of the most significant events in your life; as a child growing up, you probably imagined your wedding several times and now you're actually planning it. Just like every other detail, you also want the music to be flawless.
Our primary objective is to make your wedding as "stress-free" as possible. Every couple gets their own client login and password. After logging on, you will have the ability to customize playlist, timelines, make payments, and more. You will be able to make changes up until two weeks before your wedding date. No matter what style or genre of music you prefer, it will be mixed seamlessly.
Our DJs make all of the periodic announcements including the bridal party introduction, first dance, cutting of the cake, and anything else that you can think of! Our DJs pride themselves on their MCing ability and music selection.
Customize your special event with any of these available enhancements:
We proud of our 5-Star Testimonials. Here are just a few:
See them all here on Yelp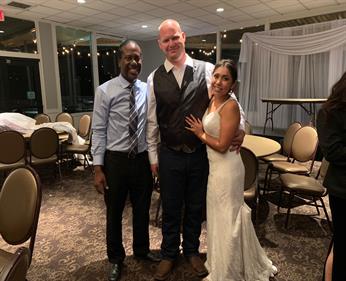 "First of all, I would like to thank Tisha for helping me on my wedding timeline, unfortunately I didn't have a wedding planner, but Tisha helped me to organize everything! In which I am very grateful! Now DJ ACE!! YOU ARE TRUELY FLAWLESS!! DJ Ace did an incredible job on our wedding 10/27/18 at San Dimas Canyon Golf Course, our guest was always on the floor dancing non-stop, including myself! A few of our guest requested his phone number, WITH OUT A DOUBT I would definitely hire him again. My husband and I love how he combine all different types of music to entertain our guest, since I am hispanic origin and my husband is Caucasian and to top it off we had a country theme wedding, DJ ACE had it all!! Thank you so much, our wedding was so much fun and unforgettable."
Patrick & Alejandra Larson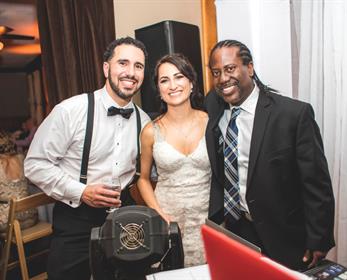 "We flew DJ ACE up to NorCal from SoCal to DJ our wedding and it was TOTALLY worth it! He did an awesome job of infusing what we wanted with what the crowd needed to keep it going all night. Our wedding was a huge mix of people of different cultures and he was able to keep it flowing well. I can't thank him enough for making our wedding the best night of my whole life!"
"DJ Ace did our wedding in Sacramento on Sept. 2nd and he rocked it! Everyone was up and dancing, in fact, my wife never left the dance floor. He did a great job reading the crowed and was a lively and fun MC. Thanks for rocking our party DJ Ace!"
Richard & Shiva Girgis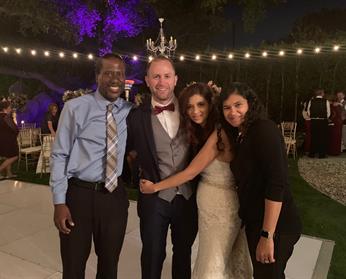 "Well, where do I start?...DJ Ace and Tisha are amazing. We had no idea all the touches and details we would need for our wedding until we booked Flawless Ent. Our wedding entertainment was indeed flawless thanks to them. They helped us perfect our timeline, music selection, lighting and their photo booth was so much fun! DJ Ace had our family from Mexico, Midwest, Dominican Rep. dancing all night. He knew when to play what and made our wedding the most fun! We highly recommend them."
Josh & Marisela Gohr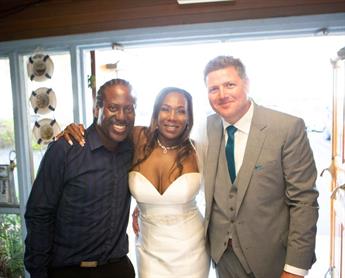 "DJ Ace and his wife Tisha was flawless as a DJ and with the photo booth at our wedding on August 30th, 2018. They both were very attentive to our wishes and checked in with us about the specific songs we wanted and the design we desired for our photo booth pictures. Tisha designed the photo booth pictures and they were amazing! DJ Ace kept the party going all night long and every one of our guests had a blast! They both were amazing!"
Alex & Tamara Poelma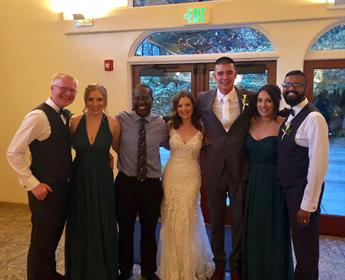 "DJ Ace has become the go to DJ for all of our friend's weddings, now including my own! I even called him ahead of time to make sure he was available on the date I had chosen, so that I was 100% sure he would be there on our special day to make it a blast. DJs make or break how fun your wedding is, & how smooth it goes. Not many people can say their wedding went off without a hitch & ours did! DJ Ace can read a crowd like no one else — all for a reasonable price. At this point, he has become a part of our friend family & I can't wait until someone else gets engaged so we can see him again!"
Jameson & Brianna Gehrke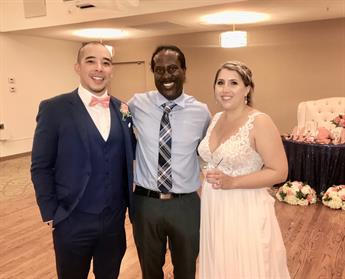 "DJ Ace absolutely killed it at our wedding! When we first met DJ Ace and his wife Tisha, we knew that we picked the right team for our wedding. They were so nice and helpful in the planning process and the online portal made everything even easier! All of the special songs were perfect and he was the perfect MC or our wedding. Our friends and family could not stay off the dance floor and he even came onto the floor to teach them a thing or two! We got so many compliments about how great of a job DJ Ace did.
We honestly couldn't be happier that we chose Flawless Entertainment for our wedding. I HIGHLY recommend them for any and all occasions! We feel so lucky that our paths crossed with DJ Ace and Tisha and our wedding would not have been as amazing without them!
Justin & Sarah Pierce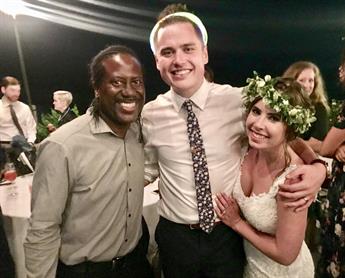 "I'm generally picky when it comes to music played at a party — affordable wedding DJ's in LA are an especially mixed bag — and so, when it came to our wedding in June 2018, I was especially anxious. But from our first Facetime call, Ace and Flawless DJ's put me and my wife totally at ease. The company's online request platform is a great tool that made the process easy, and Ace, himself, was always a great guy and consummate professional. He listened intently to all of my specific (and probably overbearing) requests. On the night of, he was a perfect host and quick-witted on the mic — nothing too cliche or lame. Most importantly, the dance party was going the entire night. It was exactly what we wanted. Our guests are still raving about how much they loved our DJ, and I would recommend Flawless to anyone.
Ryan & Amanda Kartje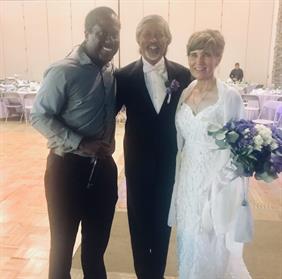 "At the event, our guests told us how much DJ Ace added — his voice on the mic is incredible because he so fun but also so filled with love - he confidently led us through complex games that guests said were truly fun ! He expertly led the Grand Entrance, the cake cutting, our fun games, and the Send-Off He adjusted the schedule with us very calmly when it seemed a good idea . He played different eras of music to involve our different age groups and he did it seamlessly - also our own favorite dance pics . He let the groom create an awesome dinner playlist and complimented his musical taste 🙂 Many people said our DJ had the perfect blend of INVITING all the people to participate without annoying them because his style is so respectful and not overbearing... and I heard wives marvel that their husbands who NEVER ever dance DID dance at our reception and that was thrilling for them ! We hope to have another party just so we can see our true new friend DJ Ace again!"
Andrea & Steve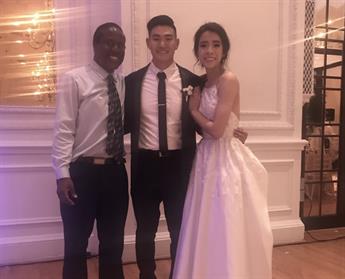 "DJ Ace and Tisha were an absolute dream team! We met about two or three times before the wedding to plan and finalize details and through it all, they were incredibly organized, strategic, personable, and detail oriented. On the day of our wedding, our venue looked stunning with the uplighting and the music easily drew guests onto the dance floor. We received so many compliments on their services, especially on the music! Everyone had a great time on the dance floor and we left our wedding feeling like we made every right decision—which of course, we did!"
Sam & Nadia Lee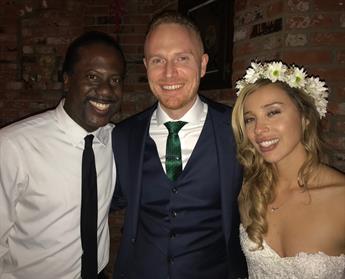 "We hired a DJ a year in advance and about one month and a half out, he bailed. We panicked, because we knew this DJ and loved his style. We looked around and felt uncomfortable going through a company that would simply pair you with a DJ. Luckily, my wedding planner remembered working with DJ Ace. She provided me with his contact information and I got a response that day. He has that wonderfully smooth voice, because let's face it a good voice is important for emceeing your event. He answered all my questions and understood my musical vision for the day.
I loved the online song selection software. It was so easy to choose our songs and submit requests. Flawless Entertainment DJ's was always responsive to our inquiries and 100% professional. DJ Ace was amazing at the wedding! He kept the party going and knew how to read the crowd. I am so grateful that he was able to step in and help us throw an epic party."
Sean & Daisy Castro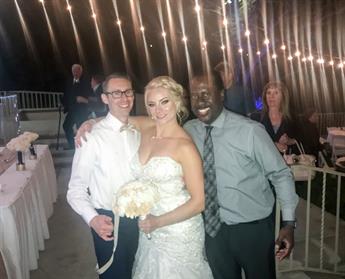 "DJ Ace and his wife, Tisha made our wedding. We married on 5/12/17 and are still hearing rave reviews about DJ Ace's work! He blended together such an array of music flawlessly and kept everyone dancing throughout the night. He not only possesses an incredible talent for mixing music, but is the perfect emcee as well! Tisha was beyond helpful with all of the planning and responded to my emails same day. I cannot say enough wonderful things about this husband and wife crew! I would hire them again in an heartbeat!"
Sean & Alyson Shearer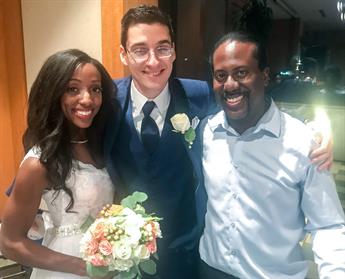 "DJ Ace did a phenomenal job at the wedding for my husband and I. He knows how to keep a crowd on the dance floor...we had people on the floor before it was even open! Ha! Beyond the outstanding music selections, DJ Ace did AMAZING with the uplighting and monogram lighting. I was thinking we could only choose one color for the lighting but the colors changed throughout the night, which I absolutely loved. This guy and his wife, Tisha were so personable and patient with all of my requests and questions leading up to the wedding. Ace definitely EXCEEDED my expectations and I cannot wait to utilize him for my next event. I highly recommend this guy. I initially thought it was too good to be true with all the 5 star reviews (lol) but I can see why now! I would give 10 stars if I could. You cannot beat the customer service, price, or talent. Thank you for making my wedding amazing. It's a night I will never forget and you are a huge part of that. Thank you so much :)"
AJ & Kiara Shelton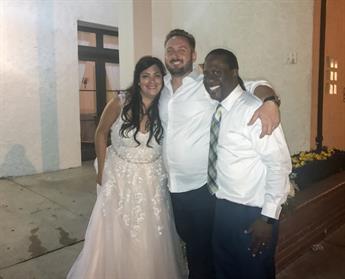 "We were so fortunate to have DJ Ace and Tisha (photobooth) at our wedding on 5/26/17. There are not enough compliments in this world to give to the both of them in order to do justice, But WoW! What a remarkable team!! We met them back in October 2016 and as soon as we left their office my now husband and I looked at each other once in the car and at the same time said "we love them!!!!" We knew they were going to be a perfect fit for our wedding. From the very beginning of the Ceremony, to the very last minute of our reception, the music was PERFECT. All of our guest also had tons of fun at the photo booth. They had even offered to give us a ride at the end of the night when my husband and I were a little disheveled, but we had a ride on its way. LOL That kind gesture proves what great people they are. Communication, song selection and payments with them also super easy."
Todd & Victoria Cierpich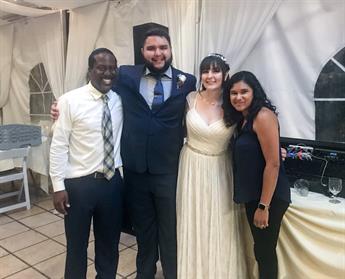 "We booked Ace as DJ and Tisha for photo booth for our wedding on 6/24/17 and they were both absolutely amazing. Since the first day we met with them, they reassured us and were nothing short of extremely pleasant and easy going people. They answered every single question we had and worked with us to figure out the details we didn't know, all while being extremely patient and sweet the entire time. Our wedding consisted of predominately Latino guests and I have to say that DJ Ace knew his stuff! The dance floor was full the entire time and everyone had a blast. The photo booth was also a big hit and the quality of the pictures were very good. The prices are also extremely reasonable. They were both professional and personable at the same time. Their personalities are just something special and they made the process so easy. We will definitely recommend them to our friends with upcoming weddings and will reach out to them for any future events. Thank you both so much for making our wedding unforgettable (in a great way!) :)"
Joanna & Jesus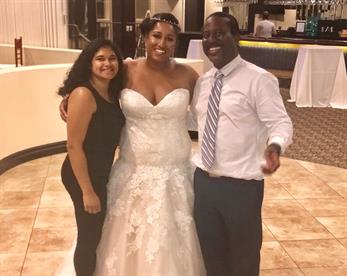 "We selected DJ Ace, from Yelp during our initial planning stage. When I gave Ace a call he was very thorough & patient explaining Flawless DJ'S services, payment options, and and additional add-ons (lighting, photo booths...), from that first call, I knew I wanted DJ Ace to DJ/MC our wedding. I loved the website and ease of selecting special songs and requests, templates for wedding planning and day of event timeline. They are so knowledgeable when it comes to weddings. Tisha took time out of her schedule to help me review and finalize my wedding day timeline. I was so relieved after the timeline was completed, as that's the blueprint of your wedding day. My wedding day was amazing, fun and definitely memorable, thanks to DJ Ace and Tisha. We all had a wonderful time, the dance floor was full the whole night. I knew my family and friends had a good time not only because the said so, but many of them had wet backs at the end of the night from dancing all night long (we party!!!) and yes our venue had air conditioning. Lol."
Shavandie & Typhanie Bogard